About Irina Chaykovskaya
Biography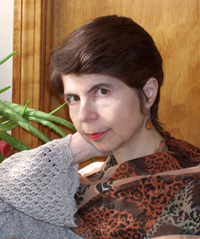 Born in Moscow, Russia, Irina Chaykovskaya graduated from Moscow Pedagogical University and got her PhD in Russian Literature. Irina is a journalist, playwright, and teacher. She has spent seven years in Italy, where she taught Russian to Italian students. Italy was a theme in many of Irina's works, such as the play "Capriccio Italiano."
Irina's works explore the questions of culture and language, the interaction of cultures, and the life of "Russian soul" abroad. Her articles talk about Lilya Brik, Ivan Turgenev, Anna Akhmatova, Marina Zvetaeva, Dmitry Likhachev, Mikhail Bulgakov, and Lidia Chukovskaya.
Since 2000, Irina is living in the United States – first in Salt Lake City, now in Boston. In America she became interested in Turgenev's relationship with Henry James. The American theme is picked up in the novel "Sounds and Whispers".
Besides writing, Irina is giving Russian language lessons to adults.
* * *
To learn more about Russian language classes, see the Lessons page.
You can find Irina Chaykovskaya's plays, stories, and articles on the Selected Works page (in Russian).